A Student's Study-Log @PinkRoom -
Clara Hwang [SIN06-xx4H]

in June 2007...
Hi girls! I'm terribly sorry, I know I haven't been updating my blog as much as you gals would've liked me to, but I really hadn't the time, and besides, when I was a bit free and wanted to blog, myspace.com had to screw up. Not my fault.
So, if you've been wondering what I've been busy with, I have been serving customers as usual, nursing complaints of 'It's really hard to book appointments with you nowadays Clara.'
I'm sorry ok? I only have one pair of hands juggling so many things that I'm trying to accomplish at one go. But rest assured, whatever I do, be it upgrading, taking a language class, finishing my nail technician diploma, IT'S ALL FOR YOU GALS.
So anyways, back to the point, I was busy with preparing for my nail technology exam this Sunday, 24th June. Just in case you were wondering why I'm taking a nail exam, or why I'm even taking a Diploma in Nail Technology, it's to prep me for my Japan nailist association exams, as if I haven't emphasised enough already on this blog.
I was constantly on the lookout for a good and reliable nail school. As most of my customers would know, I have been in the nails industry for 6 years now, I started when I was 17, and I self taught myself the nail skills. I never went to a cosmetology school, or nail school or anything of that sort. Any knowledge I have is garnered from years of trial and error, research on the internet for nail articles, countless visits to Kinokuniya bookstore for nail magazine updates. Back then, nails weren't even that popular. There wasn't even Nail Max available! So simply put, my career is based heavily on my deep interest in nail care.
Just that, back then, there weren't that many opportunities, or maybe I didn't know where to look, or maybe simply because I was a poor student. haha. And it didn't help that my parents weren't that supportive back then.
I found

The PinkRoom Int'l

randomly off the net, and I was appalled to know they offered courses to Japanese nail students for the Japan Nailist association exams, so that when they return to Japan, they can work as licensed nail technicians. I was shocked because I never knew such a school existed, and it was just there waiting to be discovered. Seeing that, I decided to challenge myself, by applying for the courses they offered. Trust me, I have tried searching for good nail schools in Singapore, but, erm, let's just say it's not that easy to find one. I'm not too sure if one even exists. Most of the places I've enquired, the teachers are fresh graduates from that school, or they come highly untrained. And they boast of top foreign expert teachers in their school, packaging their courses as if it's gonna be taught by the experts, but in the end, it's their own graduates teaching.
When I first called the school to enquire,

Rachel

, Principal of Pinkroom and an accomplished nail technician herself, explained patiently to me, step-by-step how the school works, and most importantly for me, how Japan's system works. I was extremely excited in taking a course with them, because only then, I would be one step closer to my Japanese nail license.
I was very insistent on taking the Japanese exams despite Rachel's warnings on how strict they were, the language barriers etc, JNA 1&2 are held in the Japanese language. Which I didn't know a word of back then. Despite all the barriers, Rachel agreed to help with the condition that I take up the school's Diploma in Nail Technology. I guess she figured I would need a base to begin with, than slowly work my way up.
It has almost been a year since I joined
PinkRoom
and till today, I still remember what Rachel told me, '
You really have guts doing this.
' Following those words, I applied for the course, I started studying Japanese, and reminding myself to improve on my skills every step of the way. All these, while juggling time between my business and studies.
Today, finally, I sat for my Diploma exams. Natural Nailcare, Extensions and Nailart. Took some pictures, enjoy.
Breakfast.
My lifesaver. Thanks Esme for being my model on such short notice. Loves.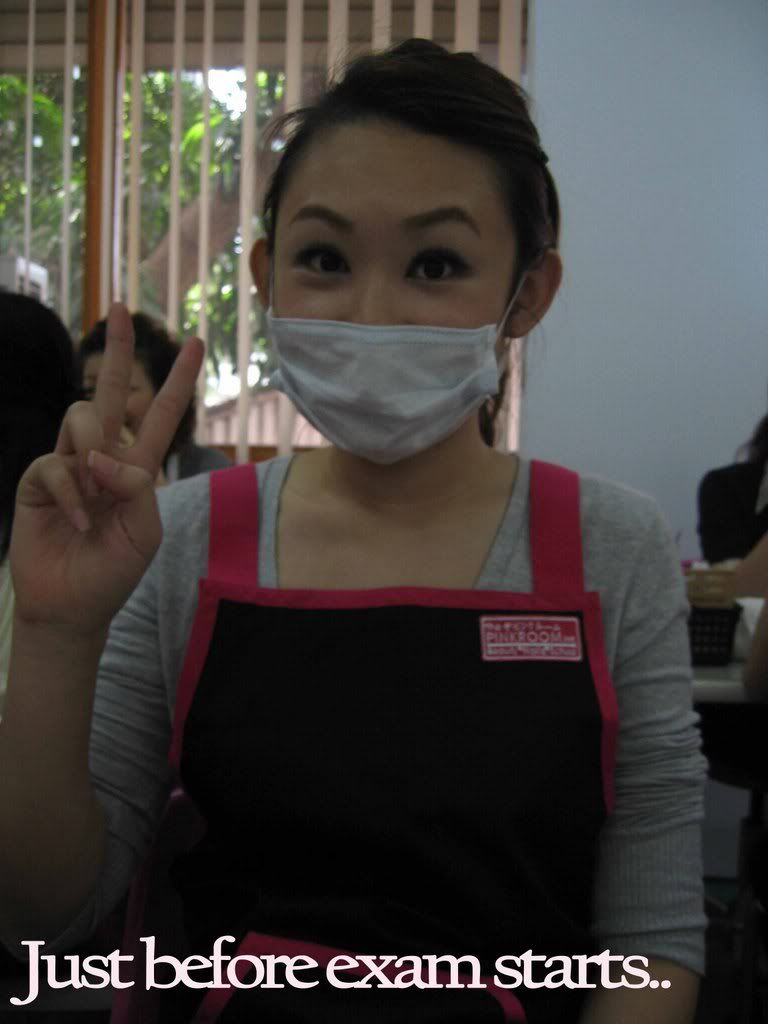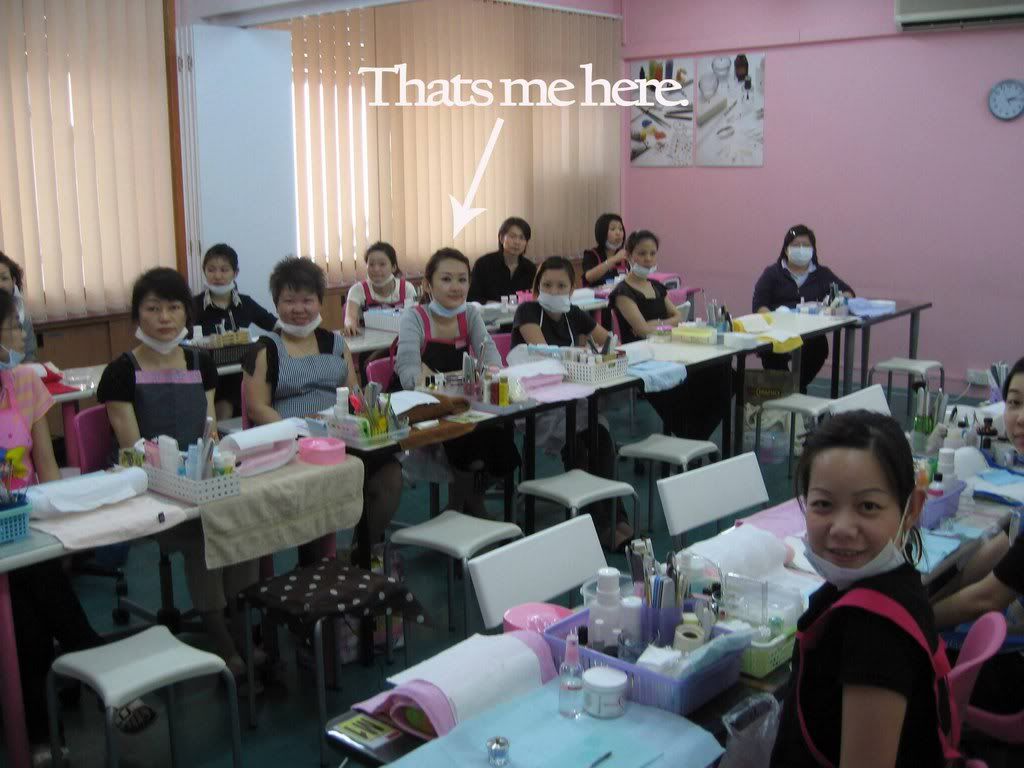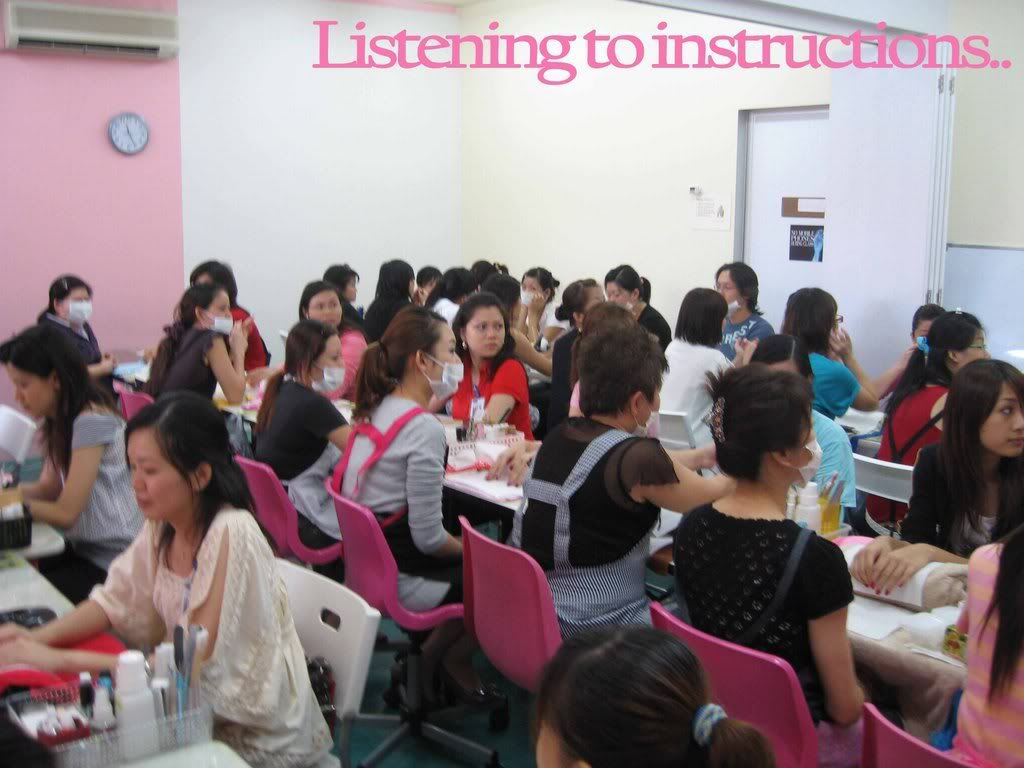 For the manicure exam, I had to do a full manicure, paint nails red, and do painted nail art on 1,3,5 of esme's both hands. In one freaking short hour.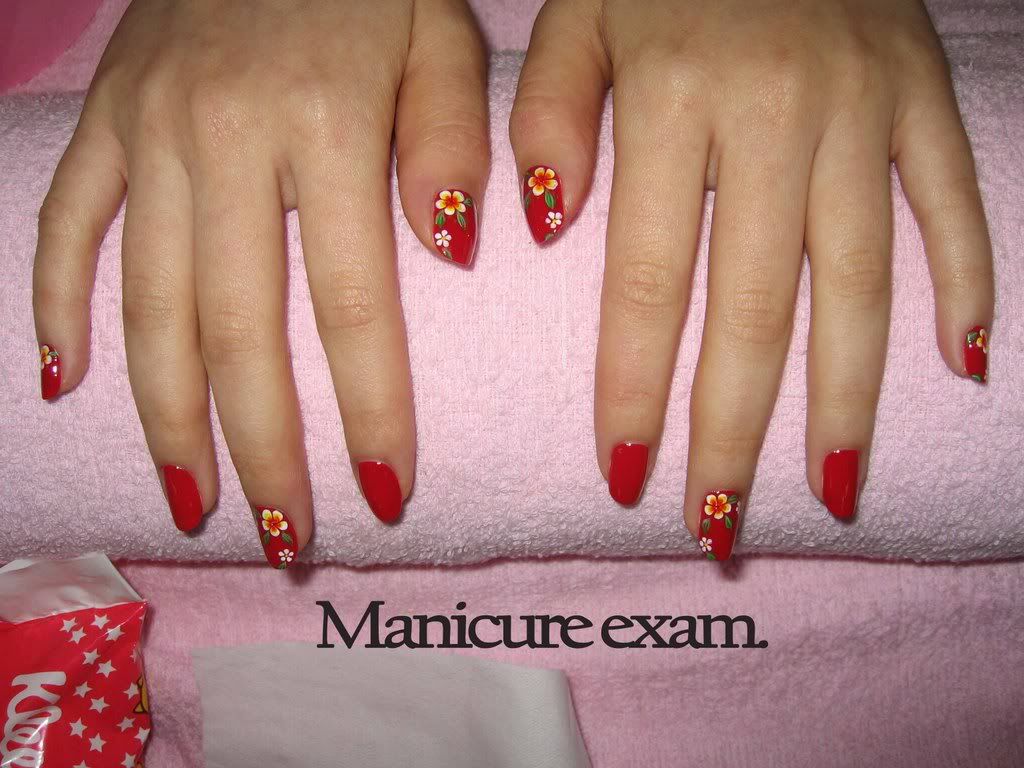 A picture before entering exam hall for extension exam.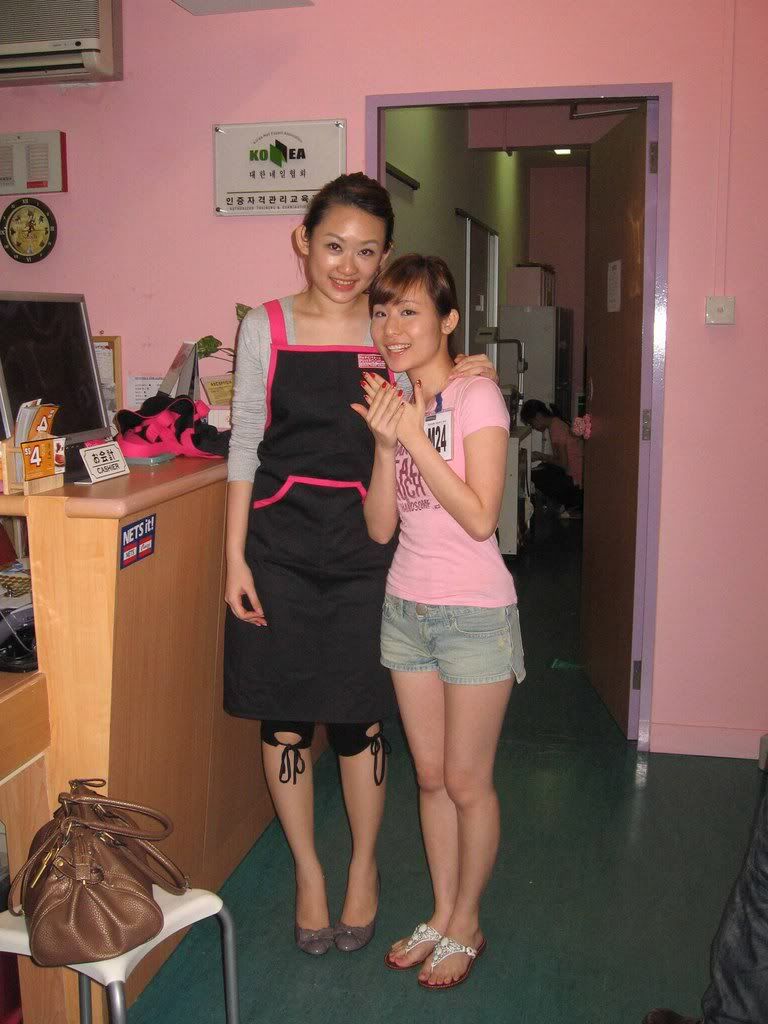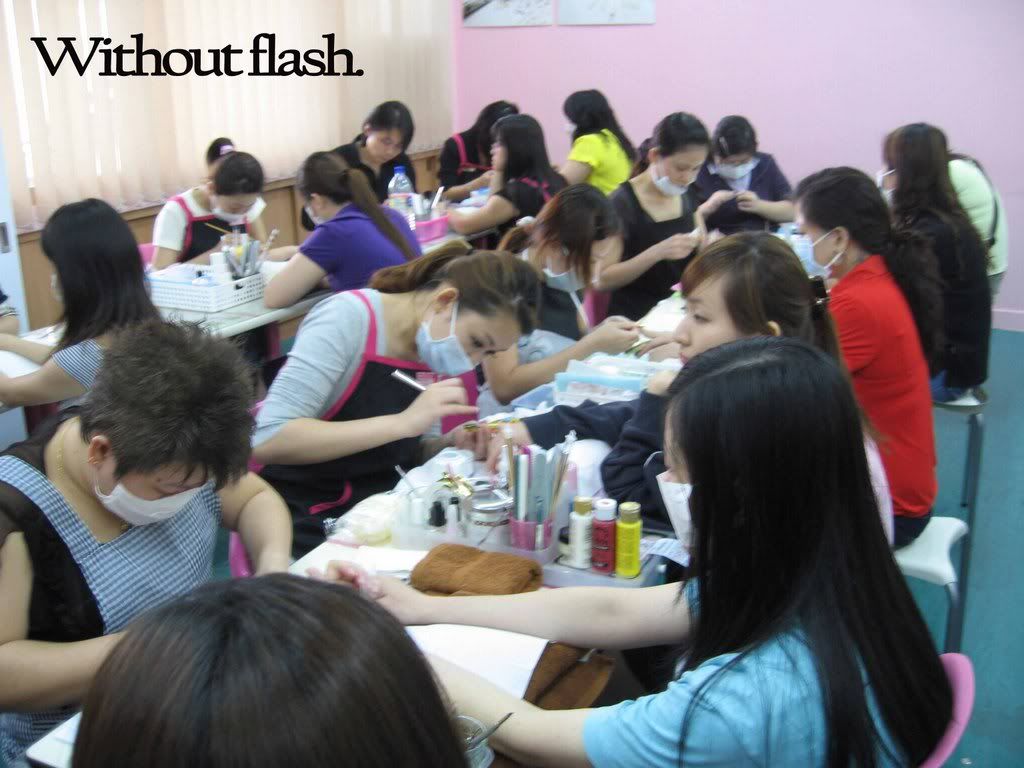 For extension exam, I had to do 5 sculptured extensions, 3 tip extensions all buffed to shine, and one finger with mixed media nail art comprising of freehand, emboss, and 3D nailart.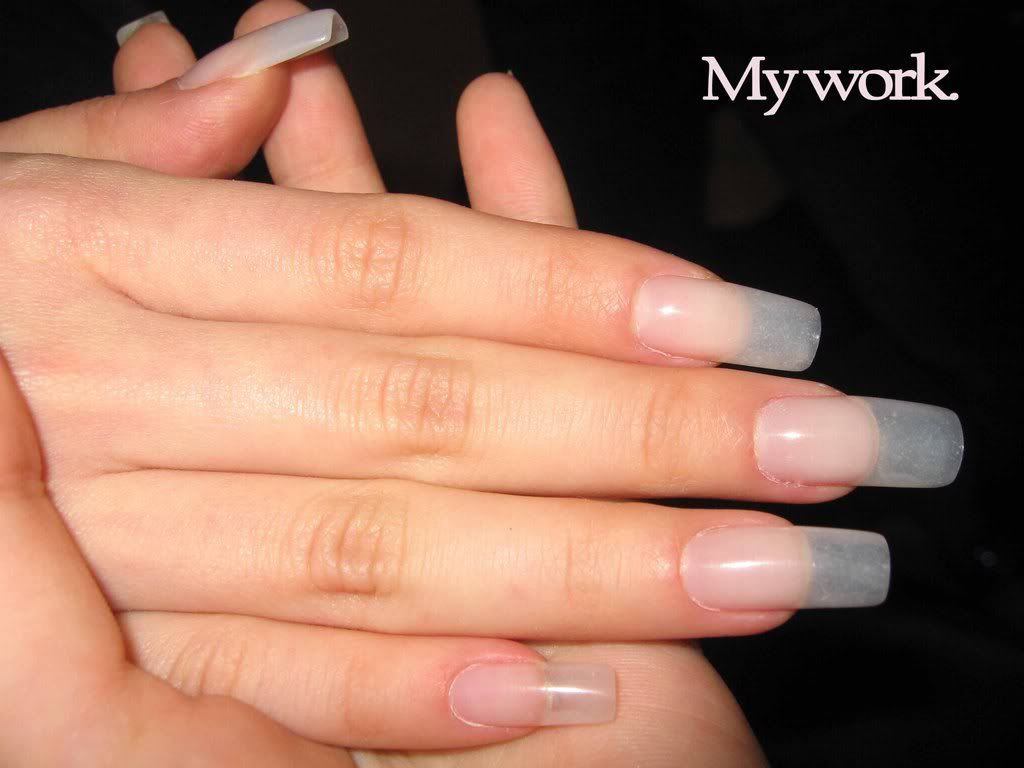 Random pic. Bored while waiting for examiners to finish marking.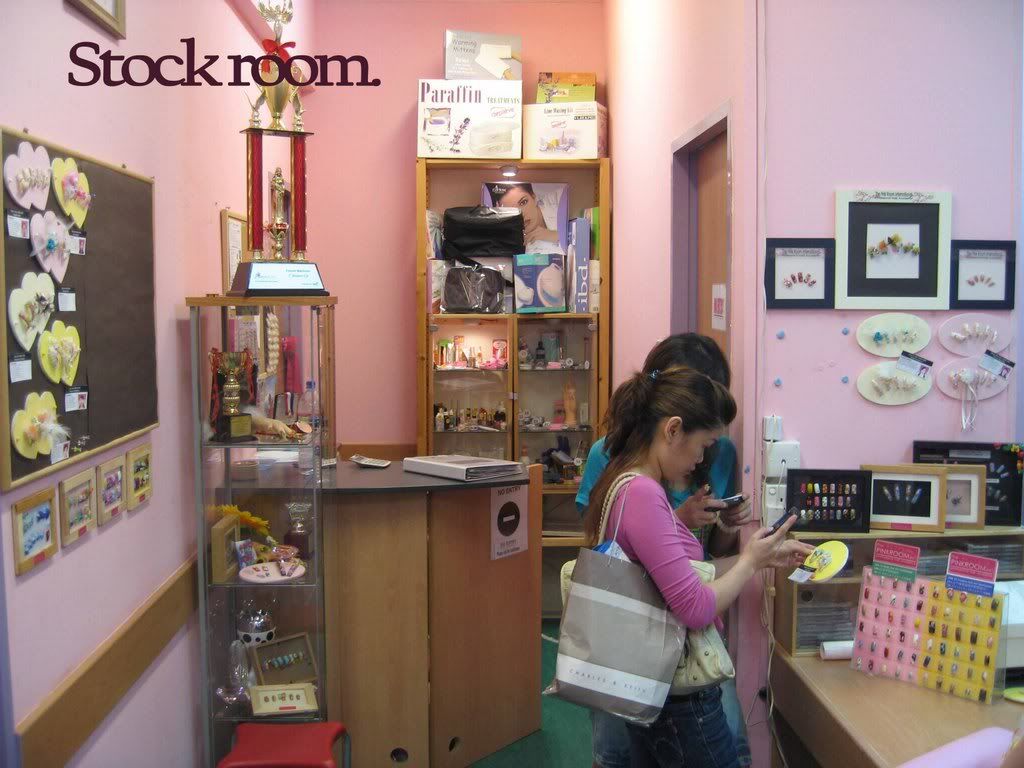 That's all for tonight. Nail Guru is sleepy from a hard day's work.